Project Take The Listener To The Center Of The Stage
Music played as surround mix sounds twice as good as listen to stereo sound only and is like listen to a band from the distance.
Now wireless speakers easily can bring surround sound to peoples living rooms. It's like been taken to the middle of the scene with the band playing all around.
Only a very few know that. So let us tell them!
Would like a picture from a live band showing a listener surrounds by the band members like this: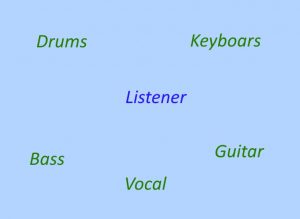 The listener in the middle symbolizes someone listening to surround music
Please help the surround wheel spin faster and send in a picture like that! And of cause release your music in multiple ways that includes a surround mix making a better world!
The surround wheel :