When an album is made for a CD or digital release then Printz Music can easily make a really good surround sound mix of the album! You only need to export (bounce) track by track from the same place with the respective plug-ins. You'll get back multitrack flac files and/or an ISO file to a Blu-ray or AVCHD – DVD with still pictures in 48/96kHz 16/24bit that can be put up for sale on your website / record label or otherwise via surroundmusic.one / Bandcamp.
It's very likely that surround music soon will get a break through because of wireless speakers!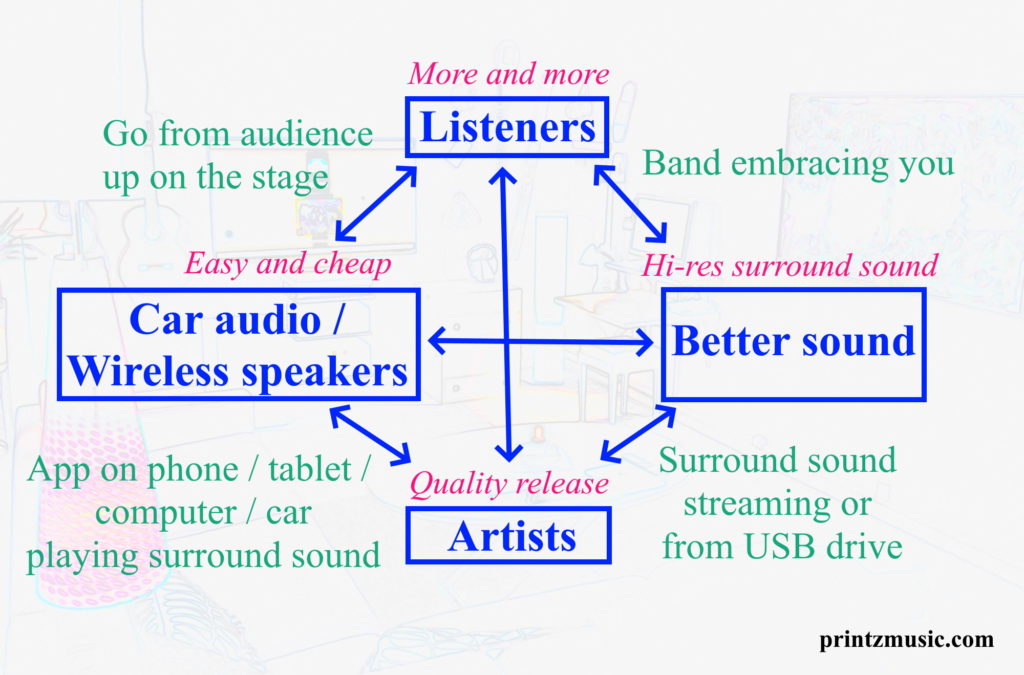 The  main cause of Printz Music is to making music in surround sound more common! Help the circle above spinning faster!
Why should music also come out in surround sound?:
ALL bands that respects their own music and think it has a great sound, should insist that their music (in addition to streaming services) also came out in multiple ways! For the fans longing for listen to music in the best quality it can be in 96 kHz 24-bit and preferably in both stereo and 5.1 surround sound. Hi-res surround sound music sounds twice as good than the CD sound!
Almost every listener of music are used to listen to stereo (or mono from small devices). Like being to a concert a distant from the stage. They does not realize that they can listen to music as being on the stage with the musicians playing all around. That is like listen to surround mixes! Getting a system for playing surround music is now a lot easier after wireless speakers for surround systems has arrived!